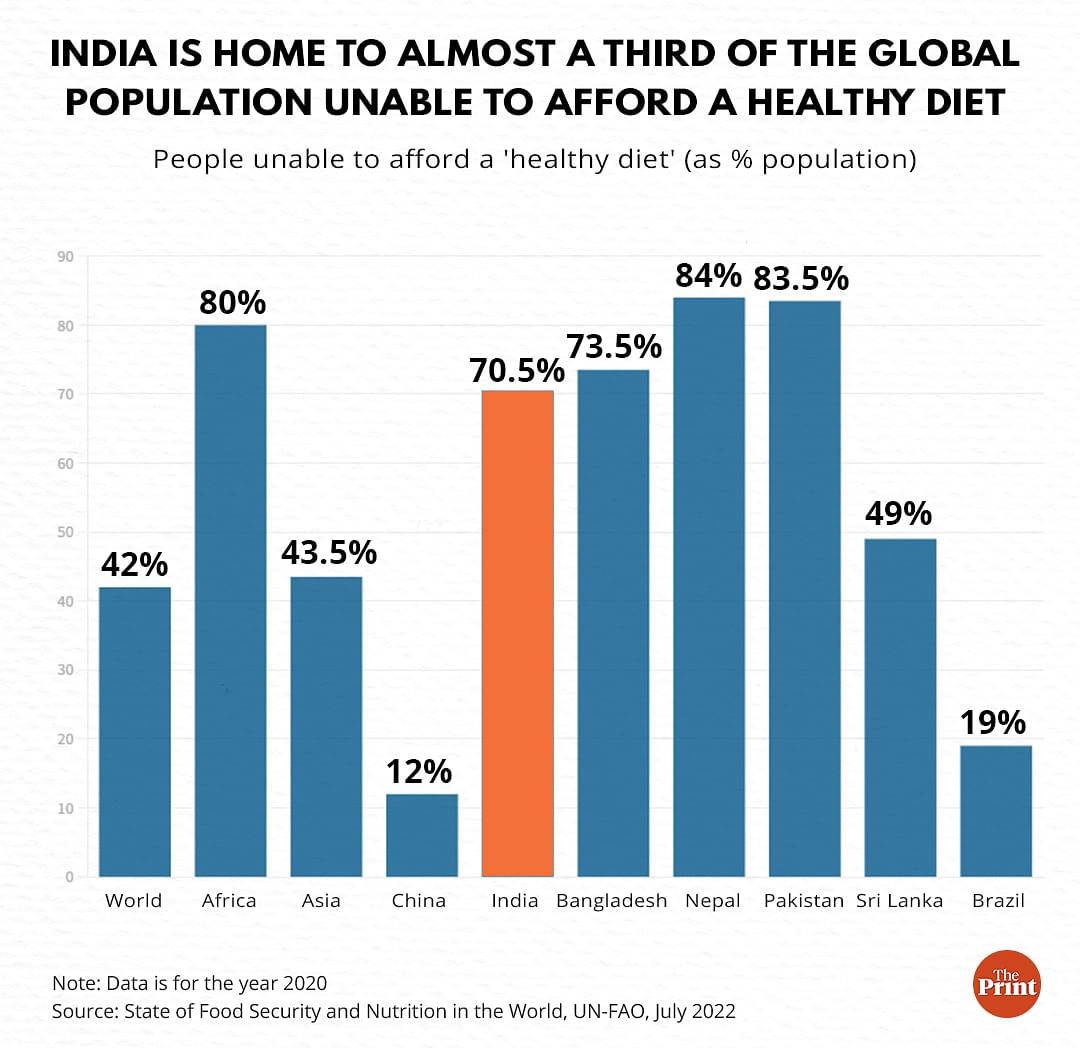 Ad
New Delhi: A cross-country comparison on the affordability of healthy diets shows that over 97 crore Indians, or about 71 per cent of the country's population, are unable to afford nutritious food – compared to a 43.5 per cent figure for Asia overall, and 80 per cent for Africa.
According to the United Nations' Food and Agriculture Organization (FAO), about 307 crore people worldwide could not afford a healthy diet in 2020. India, the world's second most populous country, is home to almost a third of this global population.
The numbers are from an FAO report released Wednesday, titled 'The State of Food Security and Nutrition in the World 2022: Repurposing food and agricultural policies to make healthy diets more affordable'.
"Food price inflation due to the economic impacts of the pandemic have left 112 million more people unable to afford a healthy diet – this means a total of 3.1 billion people worldwide," FAO Director-General Qu Dongyu said while releasing the report. A billion equals 100 crores.
The FAO report defines healthy diets as those based on a variety of minimally processed foods with a balance across food groups, including whole grains, nuts, legumes, an abundance of fruits and vegetables, and moderate amounts of animal protein.
According to the FAO, it costs an estimated $ 2.97 per person per day (in 2020) in India to afford a healthy diet. In purchasing power parity terms, this means food expenses of Rs 7,600 per month for a four-member household.
Purchasing power parity is the metric used to compare currencies by taking into account how much a basket of goods cost in different countries.
While 70.5 percent of Indians were unable to afford a healthy diet, the corresponding numbers were lower for China (12 percent), Brazil (19 percent), and Sri Lanka (49 percent). Nepal (84 percent) and Pakistan (83.5 percent) fared poorer than India.
About 80 crore, or close to 60 per cent of Indians, are dependent on subsidized food rations provided by the government. Beneficiaries receive five kg of cereals per person per month at just Rs 2-3 per kg, in addition to a special pandemic assistance of a free five kg of grains under the Pradhan Mantri Garib Kalyan Anna Yojana.
The food subsidy program has often been criticized as heavy cereal – supplying enough calories but not adequate nutrition.
(Edited by Tony Rai)
---
Also Read: Code red on malnutrition: Why half the kids in 3 poorest UP districts are stunted, many 'wasted'
---