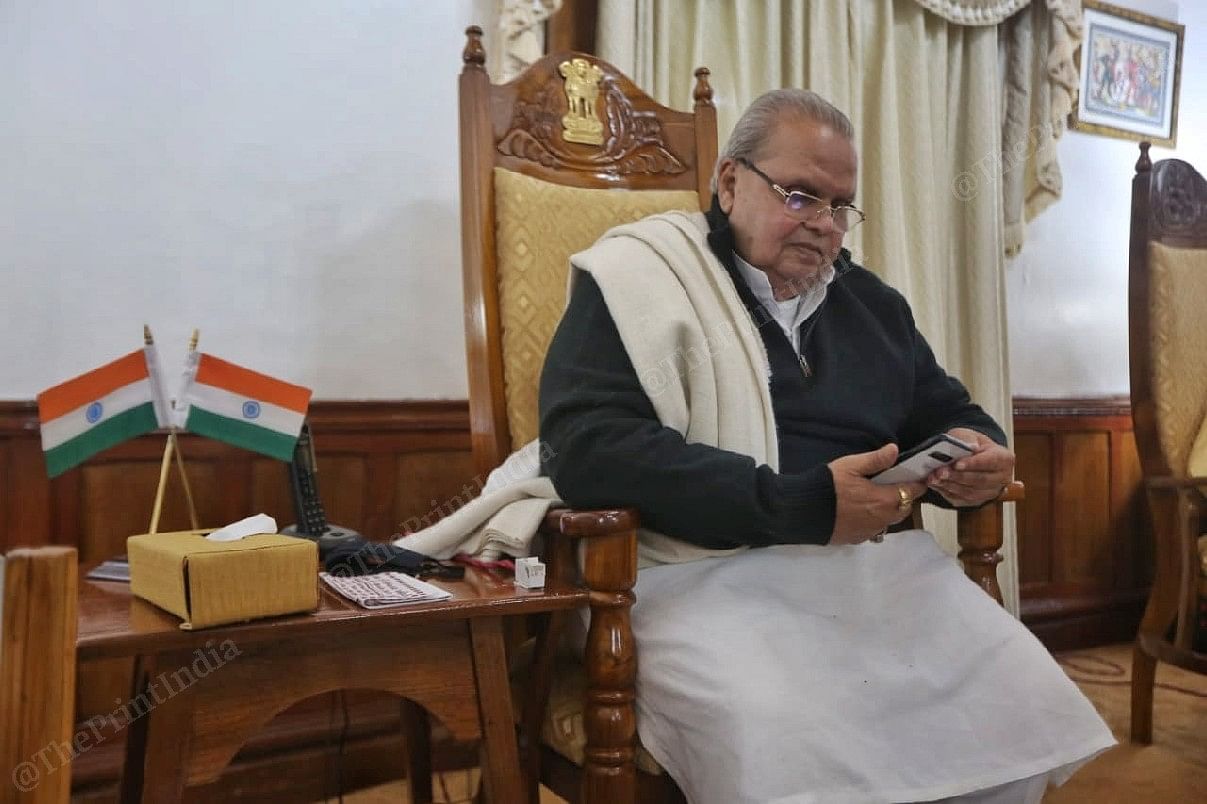 Ad
New Delhi: Meghalaya Governor Satya Pal Malik has the leadership of the Bharatiya Janata Party (BJP) in a tie. They are often left with a red face for his controversial statements – the latest being his "arrogant" barbering to Prime Minister Narendra Modi – ruling party leaders are very upset with him and would like him out of Raj Bhavan. But they have decided to "endure" it, "at least" in the Uttar Pradesh elections before taking any action, several BJP leaders and government officials have told ThePrint.
On Sunday, Malik had alleged that Prime Minister Modi showed arrogance when he met with him to talk about farmers' protests against the three controversial agricultural laws that have since been repealed, and that he argued with him.
"He will make more news if we fire him," a senior minister said on Tuesday on condition of anonymity. Malik has nine months left as governor of Meghalaya, if he is allowed to complete his full term.
"So far no one was able to send in the perfect solution, which is not strange." to hurt the BJP, but the idea is also to ignore it, "a government official told ThePrint.
According to BJP leaders, while the party does not want to give Malik unnecessary importance in response to his allegations, many party members also believe that any action taken against him will now divert attention from the next. elections to the assembly, which the party wants to avoid. at any price.
Although Malik has a history of controversial comments against the ruling party and the Modi government, this is perhaps the first time he has made a direct, personal criticism of the prime minister.
Despite this, there has been no public criticism of him by any BJP leader.
---
Also read: Nobody is on board with the "samaj sudhar yatra" of Nitish-JD (U): BJP, other allies, social experts
---
Recidivism
Malik has changed his loyalty to the party many times: from Lok Dal to Congress, Janata Dal, the Samajwadi Party and finally the BJP. He has been a member of both Lok Sabha and Rajya Sabha and even a cabinet minister in the past.
The leader began his term as governor from Raj Bhavan in Patna, Bihar (where he stayed between September 2017 and August 2018), before moving to Srinagar (August 2018 to October 2019) during the eventful period of the repeal of the "Jammu and Kashmir Special". status "and its bifurcation into the two connecting territories of J&K and Ladakh. He was then appointed governor of Goa (November 2019 to August 2020), before moving to Shillong as governor of Meghalaya in August. from last year.
His habit of making controversial statements is, however, almost as old as his political career.
From claiming a bribe of 300 million rupees to delete files belonging to "Ambani" and a "man linked to RSS" while he was governor of Jammu and Kashmir, to openly supporting the unrest in the farmers against the three controversial agricultural laws introduced. by the Modi government, and by making allegations of corruption against the BJP-led government in Goa, Malik's public statements have often caught his eye.
"This is not the first time he has made such comments. The party leadership is watching and noticing everything. Everything is on time and the right measures will be taken at the right time. Right now is not the time," BJP.
"We have crucial elections just around the corner and the priority of the party and the leadership is to focus on them."
Another leader added: "He seems to be deliberately making such controversial comments to get a reaction from the party. The party will not fall into his trap. His comments have no value and come from his own bitterness. He seems to have someone else. political design in mind or wants some role in the next UP elections ".
However, in an interview in November last year, Malik had categorically ruled out a return to active politics after his term as governor.
(Edit by Poulomi Banerjee)
---
Also read: He will not negotiate peace between Sasikala and AIADMK, says Tamil Nadu BJP chief
---